Our physiotherapy team are extremely proud and delighted to be able to welcome patients to the much improved hydrotherapy pool at Amersham Hospital.
Trust Non-Executive Director Tom Roche, who attended a ceremony on Friday February 18 to officially reopen the pool, said: "This project has been driven by the passion of a group of physiotherapists who have championed the benefits of hydrotherapy for their patients and who have worked with our property teams and the teams of our partner Vinci to develop a state-of-the-art facility of which the Trust can be very proud.
The Enhanced Pool opens at a time when hydrotherapy is being promoted nationally as it is incredibly important to support a variety of patient groups: e.g., for post-surgery recovery, for pain management , for patients with rheumatism, for the rehabilitation of neurological patients and also to allow some patients to completely avoid the need for surgery. As such, hydrotherapy (or aquatic therapy) is considered a key element in the range of strategies that will help reduce waiting lists in the wake of the pandemic.
As Head Physiotherapist for MSK and Aquatic Therapy at Amersham Hospital, Kirsty Campbell notes: 'During the COVID-19 pandemic many hydrotherapy facilities in the UK have had to close and many are not could not reopen. So it's fantastic that we can once again welcome patients and, on top of that, be able to treat them in fabulous new facilities that can support an even wider range of therapies.
With the improved facilities, the team will be able to work with small groups of patients, rather than just having one-on-one sessions because the previous group was so small. The larger pool also allows physiotherapists to offer a wider variety of aquatic therapy techniques. As well as increasing the size of the pool, improvements have been made to facilitate access with improved safety measures including level access and non-slip surfaces. A new ceiling rail hoist with chair and stretcher allows easy access to all areas of the pool and minimizes the amount of manual handling required by staff. In addition, the original high ceiling above the pool has been lowered, allowing for better air temperature regulation and improving energy efficiency.
With facilities upgraded, Amersham's hydrotherapy team look forward to being trained in Ai Chi – an aquatic therapy technique with obvious improvements in balance, pain, flexibility , mood, memory and function.
Charlotte Moss, Head of Physiotherapy and Deputy Head of Allied Healthcare Professionals for the Trust, said: "There are a number of people who have worked very hard to help us ensure that we can upgrade and reopening such great facilities: Our Trust's Chief Executive Officer, Neil Macdonald and Trust's former Chair, Hattie Llewelyn-Davies, who have both championed the project at Board level, our Finance Department, Rochelle Gee from Property Services, who liaised with the Vinci teams who upgraded the facilities for us. Successful collaboration between all parties has enabled us to have this superb and much improved resource at Amersham Hospital to support, facilitate and speed up the recovery of our patients in Buckinghamshire.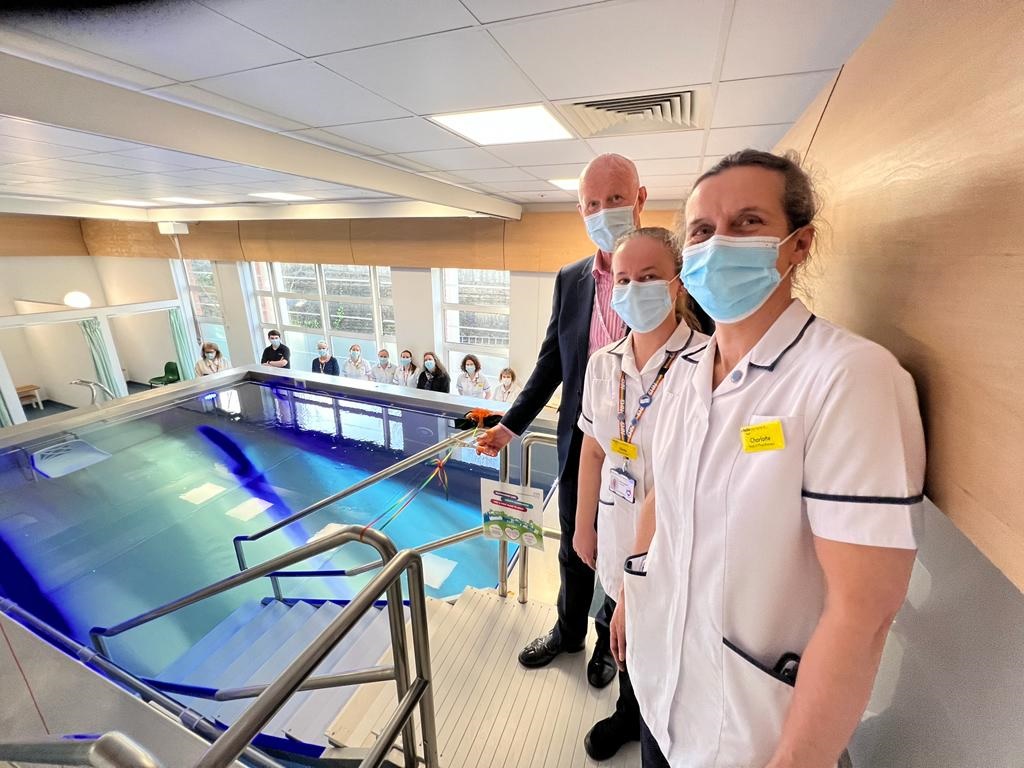 Pictured above, standing above the pool, left to right: Trust Non Executive Director, Tom Roche; Kirsty Campbell, Head Physiotherapist for Aquatic Therapy at Amersham Hospital, and Charlotte Moss, Head of Physiotherapy and Deputy Head of Allied Health Professionals.
Further information :
Aquatic therapy has always been undervalued, due to the misconception that it is expensive and ineffective. This has unfortunately resulted in disinvestment and reduced availability for patients.
COVID-19 has made this situation worse with temporary swimming pool closures – with up to 25% remaining unopened now.
A national campaign is underway to promote the benefits of hydrotherapy. Key organizations (e.g. NASS, Versus Arthritis) are raising awareness of the benefits of Aquatic Therapy/Hydrotherapy and a National Manifesto for Hydrotherapy has been produced with support from the Chartered Society of Physiotherapy (CSP) and the Aquatic Therapy Association of Chartered Physiotherapists ( ATCP).
Increased wait times for procedures and surgeries as a result of the COVID-19 pandemic makes it even more important for patients to have access to hydrotherapy pools – before and after the transaction.
Aquatic therapy is listed in the NICE sponylitis and OA guidelines and some patients can be successfully managed with aquatic therapy and prevent or delay the need for surgery.